Y our bathroom is one of your most important personal space. This is because you spend a considerable amount of time using it daily. Your bathroom whether spacious or not, can be arranged in such a way that you would have enough storage space for whatever you deem fit. While it is not advisable to have stuff everywhere, you can neatly maximize space by having everything you want neatly and cleverly arranged. I'll tell you how. This article brings you with 8 easy and frugal steps to organizing your bathroom storage.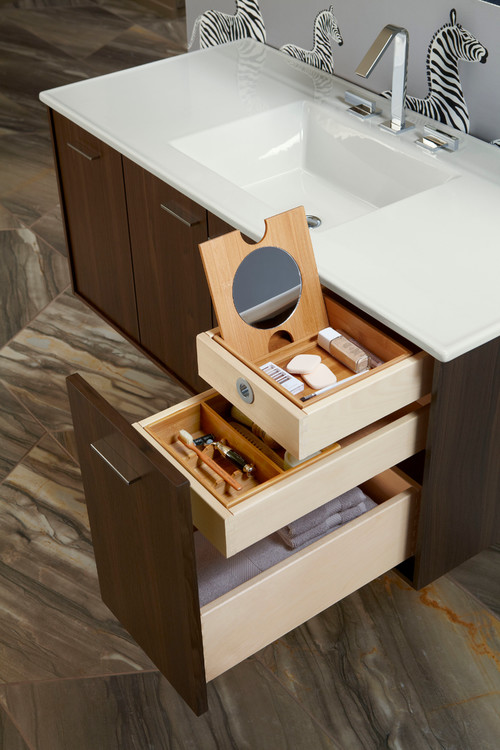 The first thing to consider: Determine the scope of your project and decide how many storages you'll be designing and installing. If your bathroom storage project consists of just one, you need to decide if the new cabinets should contrast with what exists or blend in.
How to Get the Storage You Want
1. Wall Cabinet:
Look beyond the space on the floor and look above; yes. The wall above could be turned into a storage space. A wall cabinet is all you need. You don't need to spend too much to get one. A handmade cabinet will sure come in handy with different apportioned parts to keep different stuff.
It just does not end up giving your bathroom a different look, it also helps it look organized and easy to reach different items.
2. A Storage Ladder:
For ease and convenience, you might not want to have to stretch out to reach your toiletries in a wall cabinet. You can easily set up a handmade ladder which you can decide to paint a color that sits well with your bathroom. This ladder could house containers or even baskets that contain stuff for the bathroom with different demarcation spaces.
For easy reach, keep the height of the ladder at a convenient level. I.e. The ladder should not be too high.
3. A Towel Rack:
Having a towel rack is another efficient way or organizing your bathroom storage. You can easily hang out your towels. It saves space and adds beauty to the bathroom. You can make your towel rack have a unified look with your mirror.
4. Packing Case Shelving:
To avoid your bathroom from having a cluttered look, you can go to a craft store and pick up some crates. They are quite economical and they also give a decorative feel to your bathroom. You can fix them to any portion of the bathroom that appeals to you.
5. Wicker Baskets Storage:
A wicker basket that is placed under a shelf just beneath the mirror can serve as a storage means for your bathroom. It also gives your bathroom an appealing feel.
6. Sink Space:
Just below the sink is some space that can earn you a decent storage. Especially for bathrooms that are not very spacious. You can instill sliding drawers beneath the sink.
7. Make Use of Rods:
You can have double rods across the shower walls. These rods can come with S-hooks that can hold sponges and loofahs together.
8. Mirror Shelving Cabinet for Privacy:
This option helps you to customize your bathroom into your personal space by housing stuffs you want to shut out to anyone who comes into your bathroom. Your bathroom supplies and toiletries are totally safe here. Your private shelving need not be known by anyone as it would be behind a full length mirror. The shelving is only found when the mirror is opened.
With the right organization of your bathroom storage, not only will you be maximizing space, your bathroom will also be given a very tidy and attractive feel.
More: Storage Solution, Tips for Buying Bathroom Cabinet