D o you have trouble finding things? Your workbench was piled so full of tools, that are spent a couple hours just finding room to work on the current issue! Since did not have a good storage solution system. Does there never seem to be enough space for your stuff?
Most homeowners store different types of tools and equipment in their garages apart from cars. Many householders have often transformed the space into a 'dumping ground for household', or waiting to be repaired. Creating effective storage systems it can be a great way to maximize the space and the way it is used.
Is there never a place to store things? There are many of different storage systems to choose from. The trick is taking advantage of overlooked, but perfectly useful storage space. Organizing aspects of the garage, such as tool storage, can open up further space to be utilized for other things.
Organize your garage
Can you find your tools when you need them? Many people have so much clutter in their garages. If you find that you have trouble finding anything in your garage, it could be time to organize yourself with a garage storage system – The benefits you receive from having good tool storage are invaluable when it comes to your time.
Also, it is very important to make maximum use of your garage space. You can hang the garage storage systems on the ceiling or mount it on the wall in order to leave the floor for other important uses – It is very hard to operate from a congested, messy or disorganized garage.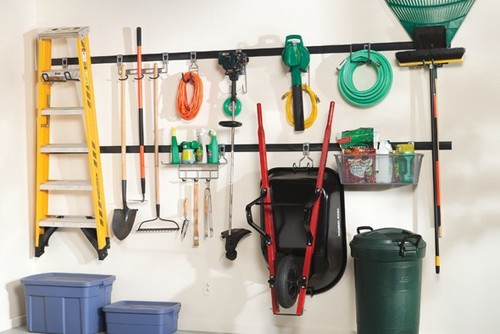 In order to plan effectively, one must start with a floor plan of the garage. You should carefully study such plans as for storage purposes. Storage systems come in various shapes and sizes and it should be possible to find a system that meets your exact space requirements — It means you will need to carefully survey out your area before you start
Make a sketch of your garage on the piece of paper marking the windows, plugs and any other stationary items such as existing shelves and doors. Once you have your basic sketch down, measure the distance between windows and the length and height of the walls.
Keep everything Within Easy Reach
Keep this in mind, If you want to work efficiently, you should have all the tools you use most often right at hand. Most of your hand tools should be visible at all times — when designing your storage solution system.
The easy way to design your system with the following plan in mind:
 What you use daily
 What you use occasionally
 What you seldom use (but still want to be able to find)
There's nothing more frustrating than opening a drawer and having to fumble around for your nail set. Tools and other items you use every day or several times a week need different storage arrangements than something you only use every few months.
Choosing a garage storage solution system to work for you
What type of storage would you like? Use the internet to get ideas of the different types of wall storage available. You can then begin to sketch of your garage in the plan to place a storage shelf, cabinet, peg board or whatever type of modules needed to hold your storage. Here are a few, for your consideration.
1. Grid panels are another popular selection. They do not have to be flush against the wall. You can place them in more places that other panels. You can also place hooks in them to hang items. You can keep many small things on one grid.
2. Cabinets are another good way to organize your garage. You can store a lot of tools in these. You can safely store your power tools. Use cabinets that lock to keep small hands out of the tools. This makes them a good safety feature.
3. Have you considered using some of your ceiling space for storage? An often overlooked space for storage is the ceiling. You can use your ceiling for shelves and hoists. Many people keep large items stored this way.
4. An inexpensive method is to install wall shelves. They can be a very effective way to organize things.
5. Hooks, you can use hooks for hanging a variety of things, make an effective organizing tool. They come in all shapes and sizes. They are very good for items like bicycles.
The storage solution systems make your garage much more stylish and functional, as you'll be able to see exactly where all of your tools are by keeping your well organized with a great garage storage system.