O ne of the most popular trends in bathroom design nowadays is to go rustic decor, and feel of a rustic style decorating are warm, inviting, and homey, be it antique or contemporary.
Nothing could be more relaxing than a lazy time spent in your bathroom. The warm and friendly feel of simplicity and relaxation, and escape the hustle and bustle of the modern world we live in.__ It's time to stop, take a deep, relaxing breath, and calm down.
If rustic style is your design dreams. The use of neutral or soft tones on the walls as well as antique looking cabinets or vanity can instantly add a rustic touch to any bathroom. Pedestal sinks, clawfoot tubs, and brass faucets also add to the country ambiance.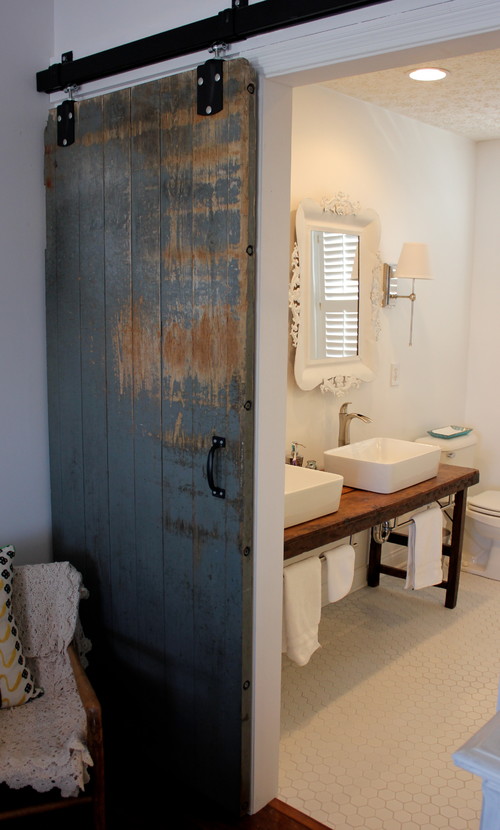 Rustic style natural warmth, honest and unstudied and evoke a simpler time. Rustic interiors have a sense of connection to the past.
Naturally Rustic Bathroom
Although natural decorative objects such as dried flowers and pinecones add whimsy on shelves in bowls, art can also be hung on walls. Framed photographs or hand drawings of forest scenes and other landscape prints can bring the outdoors into the home and blend well into the design.
Eye-catching patterns and cozy textures. Featuring plenty of natural materials. Balance and rustic elements to create a bathroom with a warm, inviting feel for the senses. With their unique elegance
Old-fashioned hanging lanterns complement the look. Antique lamps made of brass and attached to the walls can add an elegant and quaint touch. You can install such lamps to complement other decorative elements in your bathroom such as brass faucets and bath tubs with claw feet.
When buying accessories and equipment to be incorporated into your rustic bathroom decor, make sure to choose your towels, shelves, and other whatnot such as candles and soap holders in the mentioned color tones above. Metal art adds that atmosphere of rustic living for everyone.
Metal Art pieces such as towel bars, towel rings, and tissue dispensers would also be a fabulous addition to your rustic bathroom.
Key accents in your bathroom, keep in mind that the color scheme should be faithful to the rural picture we all have in mind. Subdued tones such as earth, rust, browns, greens, and muted reds are the great visual representation of a homey feel that adds coziness to your user. Ceramic pots, wooden bowls, simple cotton curtains, and stones are one of the familiar accessories usually incorporated into a rustic bathroom decor.
Rustic vanities are made from wood but the countertops and sink are made from a variety of materials. Porcelain, ceramic, glass, metal, stainless steel, copper, and aluminum are some of the material used for vanity sinks; granite, wood, and other natural stones for the vanity countertops.__Choose one that fits best to your bathroom design.
Choosing the right rustic vanity for your bath is essential as it serves as the focal point of your bathroom. Select one according to the type of wood that is compatible with the bathroom theme, there are certain types of wood that can truly capture the rustic look of bathroom vanities. Such are mahogany, cherry, and oak.
You'll love it if … create a feeling of authenticity and simplicity. Then relax in your soaking tub and take it all in. A rustic vibe in your beautiful bathroom.