Bathroom renovation can include the addition of a few new elements to the bathroom, making some changes in the bathroom design or complete revamping of the bathroom. You might want bathroom renovation because your bathroom is old or you might need a bigger one. You might also want to add a whole lot of new fixtures in your bathroom. It is essential to ensure that the modern bathroom not only reflects your style but also has a high functional value. Thus, it is necessary to plan bathroom renovation well in advance so that you do not end up unsatisfied with the new bathroom.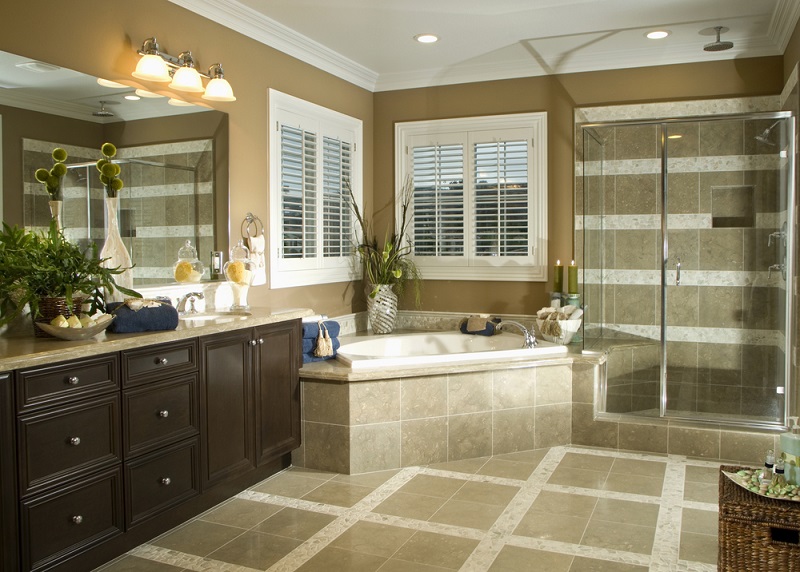 Some points which should be considered while planning bathroom renovation have been mentioned here.
Size of the Bathroom 
There are multiple design options in case of large-sized bathrooms known as master bathrooms. The design should be directed towards creating a spacious and luxurious master bathroom. Separate shower heads and a large-sized bathtub, double vanities, two sinks, etc. are suitable for master bathrooms. In the case of small-sized bathrooms, the key is the maximum utilization of the available space. It is enabled using recessed storage spaces in the wall, sliding doors, concealed cistern, small toilet and right-sized fixtures to allow enough space for movement between them.
Flooring
Flooring is an essential point of consideration for planning bathroom renovation. Small and textured tiles make for perfect bathroom flooring. It is because the presence of more grouting and the textured surface will prevent slippage on the wet floor. Stone, ceramic and porcelain tiles are the best options for bathroom flooring. These tiles are highly resistant against water and mold growth and are easy to clean. They also come in a plethora of styles, colors and textures, which gives ample options to create aesthetically appealing bathroom flooring.
Lighting
Lighting is another important aspect of bathroom renovation. The types of lighting fixtures and their placement in the bathroom depends upon the amount of natural light filtering into the bathroom. Various lighting options for bathrooms include recessed lighting around the mirror, wall sconces, pendant lighting, shower lighting and cabinet lighting. An essential addition to bathroom lighting is dimmer. Dimmer switches allow the brightness of the lights to be adjusted as per requirements such as low light for bathing.
Ventilation
Proper ventilation is a crucial aspect of bathroom renovation which cannot be neglected. It is because the absence of adequate ventilation causes moisture to remain inside the bathroom leading to the formation of mold and mildew, which damages the flooring, walls and fixtures present in the bathroom.
Proper ventilation can be ensured by installing a fan inside the bathroom to enable air circulation. A fan with a timer preferably of 1-hour setting is a suitable option. Connecting a DE humidistat which switches on the fan automatically whenever it detects excess moisture in the bathroom is also a good idea. Remotely operated fans are also trendy.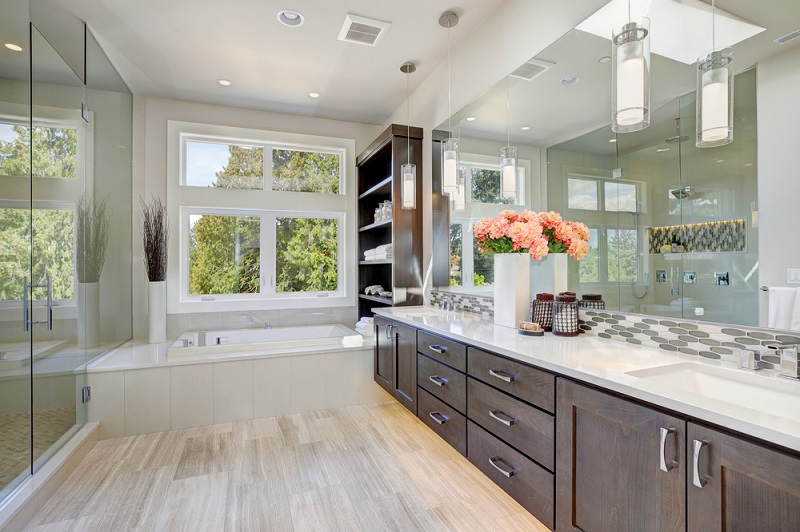 Natural ventilation can be ensured by installing a window in the shower enclosure. The window not only allows natural air circulation but also lets in natural light into the shower. The window sill of such a window must be of sloping design so that water does not get trapped in it.
The Diameter of Drain Pipes
The diameter of bathroom drain pipes is usually 1 1/2 or 1 1/4 inch. Such drain pipes have a high propensity of clogging, especially when a large number of people are using the bathroom. Installing 2-inch diameter drain pipes is a beneficial aspect of bathroom renovation because the drainage system of the bathroom will vastly improve.
Heating
Installing a heating system in the bathroom is beneficial for homes located in cold regions experiencing harsh winter months. Heating systems which can be installed in bathrooms include underfloor heating: wall-mounted heaters, heated towel rails, and combination fans.