M any tend to associate shabby chic decorating with femininity yet I disagree. To me shabby chic is a decorating style that expresses pride in history by using furniture, sofas, and pieces of art from earlier periods, the vintage pieces  ideally looking a little worn, to create a beautifully aged design scheme.
Shabby chic decor is a decorating style that combines beautiful, elegant items with those that are aged and worn.  Shabby chic furniture and accessories are reminiscent of the 1900 to 1950 eras.  When Grandmother decorated her home, she didn't buy new furnishings, she used hand-me-downs and made accent pieces by hand.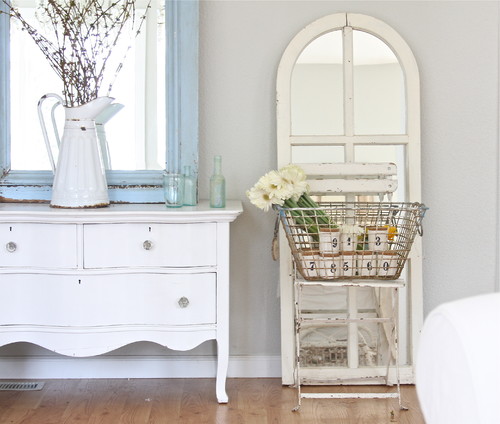 This style will turn your living room into a comfortable space with the romance of things that are old or vintage pieces that have a purpose. A shabby chic living room is perfect if you'll like to show off your favorite accessories and antiques. And best of all it is possible to create your own shabby chic decor using items in your home and paints.
Tips Here That Will Give Your Home The Pride of The Shabby Chic

Choose pieces that are a bit old and worn out to paint in shabby chic decorating, usually vintage pieces and second-hand items are best for the cause. It is OK if the finishing is in bad shape because they will be painted.
For painting you must break away from tradition, choose light colors and pastel. Some ideal choices include lavender, light blue, pink, light green, and light yellow gel.
If the piece you have chosen is made of laminated materials, first clean it of all the old dirt and chipping paint with sandpaper, then use a quality primer to coat it before painting.
Rub candle wax onto the furniture to prevent the paint from sticking, then begin painting by simply adding layers of the selected color. The great news is you don't have to be a professional painter to create great shabby chic furniture.
Use uniformity in your scheme, by choosing identical color fabrics for your curtains and the shades. Consider tea stained fabrics in similar colors and shades in a combination of prints like floral, striped and checked matching the background with the same color.
Where Can You Find Shabby Chic Decor and Furniture?
First and foremost is to look for shabby chic decor and furniture in your own attic, basement or storage shed.  For example, reuse that old desk that is scratched and nicked by taking off the old finish and using a whitewash finish.
Other excellent places to look for shabby chic decor and furniture are at yard and garage sales, second-hand furniture stores and antique stores.  Don't forget to ask friends and relatives for any items they are getting ready to discard–they would probably love for you to pick them up and get them out of their way.
Look in your closets and cupboards for unique knick knacks that have an old or elegant look.  Even if an item is new but looks old, it will work in nicely with your shabby chic décor.
Historically, shabby chic décor and furniture were painted white–these days it can be any color.  However, once you choose a color, stick with it.  Paint each piece of used furniture the same color and reupholster it in a fabric with a repeating color scheme.  Muted green and soft pink are two accent colors that are popular in shabby chic décor.
Shabby chic decorating is also ideal for putting the spotlight on a particular piece of furniture.  A beautiful, much-loved antique can be the center of attention in a simply shabby chic decorating plan.  The simplicity of this style of decorating lends itself to highlighting one or even a few unique pieces of furniture.
As you can see, shabby chic decor is an excellent decorating style if your decorating budget is limited.  Creativity, imagination and time are what it takes to bring together the simply shabby chic look.