All owner homes! Want to ensure that their homes reflect their own tastes and interests, and this means opting for designs, styles, materials, and even accessories that are in tune with your kitchen cabinets.
The kitchen is the most expensive room in the house to build. Kitchen cabinets are some of the most important items within Kitchen Remodeling, Your cabinets will not only ensure that you have a place to store all of your various goods and appliances.
Remodeling kitchen is an exciting way to add an element of personalization to a modern, traditional or even eclectic kitchen, preferences, are reflected in the design.
It is always a good idea to combine colors and textures when it comes to your kitchen renovation, and this is because it brings an element of intrigue to space.
In fact, remodeling your kitchen is a fun and exciting challenge, but it can also be rather daunting; Many designers believe that renovating this specific area of the kitchen is cabinets, one of the most expensive tasks of the entire job.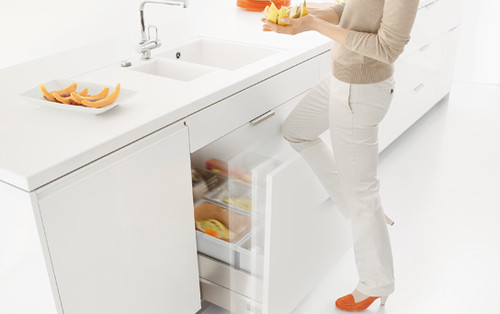 Kitchen Cabinets, whether you prefer a traditional look or a contemporary kitchen, the drawer fronts and cabinet doors you pick accentuate the beauty of the kitchen, while also determining much of its durability.
Use Quality Materials of Kitchen Cabinets
It is essential to consider both the aesthetics, including color and style, along with the function and strength of the material. As a major portion of the kitchen budget, balancing beauty, durability and cost are vital to a successful cabinet choice.
Eco-friendly materials aren't rare anymore — it's easy to choose kitchen cabinetry that contributes to a healthy home and family, as long as you know what to look for.
A multitude of different kitchen cabinet materials available, solid hardwoods, wood veneers, and synthetics are currently the most popular.
Hardwoods
Alder: This solid hardwood has remained popular due to lower cost, the broad range of available stain colors, and subtle grain appearance. Alder's natural nut brown undertones allow it to take stain similar to a light colored maple, a dark walnut, or even a red cherry. It is a softer wood within the hardwood category, so not that tough. Great economical choice for raised panel stained wood with a high-end look in the rustic and traditional kitchen styles.
Poplar: Good economical choice for painting kitchen. Difficult to stain due to natural green undertones. Softer end of the hardwood spectrum, less durable than a maple, oak, and a little softer than alder. In the white French country style kitchen, painted poplar will give you the same look as maple at a lower cost, but it will not resist nicks. Typically used for high-end decorative painted trim such as white wainscoting and crown moldings in tradition and French country kitchens.
Cherry: Higher end material choice that carries good durability and a rich red undertone. Often found in formal and refined traditional kitchens. Alder is an economical substitute that will achieve the same refined look at the sacrifice of durability.
Maple A very hard wood with a mild grain pattern. This material can take a natural stain, dark stain, or hold paint with a high level of durability. Cost is higher than popular as a paint grade alternative and alder as a stain grade alternative but the maple will hold up better over the long run.
Wood veneers – Most any wood commonly used for hardwood doors is available is in thin sheets called veneer which is applied over resin particle board or MDF (medium density fiberboard). This type of door construction accomplishes a clean look with a natural wood finish often found in contemporary kitchens. A kitchen cabinet door cannot resist warping when fabricated in a flat, wide style, so a wood veneer is used to create the appearance of a solid wood door without losing stability. When selecting specific veneer wood, the hardness plays a large factor in long term durability. Maple and cherry are the toughest, while alder and poplar are the softest or less durable. Cost is often pretty comparable to a solid raised panel door of similar wood species.
Synthetics – Process is similar to the above-mentioned wood veneer, with the exception that the veneer material is a PVC substance that typically possesses more durability and lower cost. Often used in commercial applications and utilitarian reside. Applications such as garages and laundry rooms.
Cabinets door
Door Styles — shaker, flat or inset? Your cabinet door style is important. See which of these popular cabinet doors fit with your home's style.
Glass inserts — who says cabinets have to be wood? Allow cabinets a fresher, more open appearance, open up your kitchen with light and space with glass cabinets.
Modern kitchens — go beyond the standard swinging door in your new kitchen. Flip-up doors, pocket doors, and corner drawers can make your cabinets more functional and your life easier.
These features might not come standard on most cabinetry, but they can make a huge visual impact.
Fill with your Favorite Color
Focus on your own tastes go through the process of kitchen remodeling. Many people have a favorite color, but it is important to remember, that the color needs to blend in well with the surroundings.
The kitchen should be a combination of both relaxing and stimulating colors. But at the same time shouldn't be too stimulating that it makes you hungry, and how do you pick a cabinet color to go with your existing appliances?
Purchase or Renovate?
Of course, this decision will depend on the budget that the individual is working with, the kitchen cabinets, countertops that they plan to have installed in this area of the home and their own personal and preferences.
Whether you're building a new kitchen or remodeling an existing one, it's important to keep the universal design in mind. Clever accessories will make your kitchen comfortable and accessible for everyone who uses it.