Outdoor showers can be both a decorative and functional addition to any home. There are several reasons why homeowners decide to integrate shower units outside of their homes. Aside from easy access to a shower unit, these fixtures also provide convenience, especially after working in the garden.
Generally, showers designed for outdoor use can in two major types – the standalone or the wall-mounted model. A standalone outdoor showers can be moved to different locations and just requires a hose connected to a water source.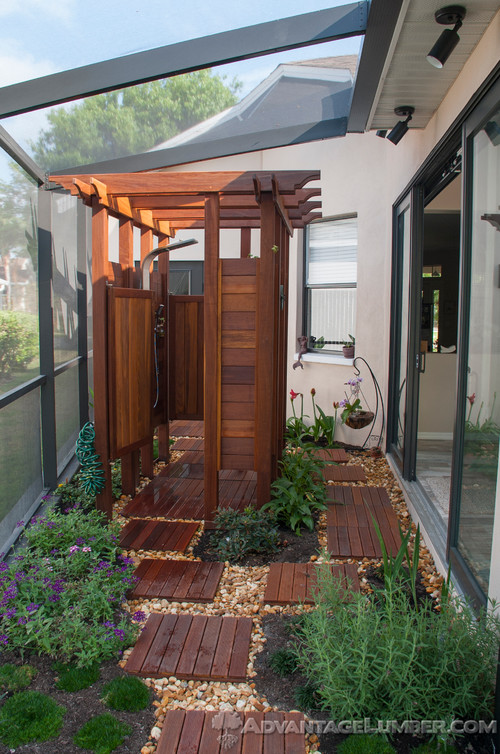 But you should take into account some important considerations. If the unit is intended for rinsing only, a fence or a shower curtain will suffice for privacy. However, if it will be used for showering purposes, enclosures with shower doors and other features like seats, towel racks and soap dispensers will be needed.
Design and Installation of Outdoor Shower
The design of the outdoor shower can really be a great addition to the overall exterior of a home. Simplicity is always a good basis of design. Pair up your shower with contrasting designs of the exterior towel rack, housing for shampoo and soap and you already have a great landscape design.
Installation can be very crucial. If the drainage of your home is not properly done, there will be a lot of wasted water. The most common problems the poor drainage system.
For the setup of the actual shower, simplicity comes into play with just a simple concrete base or a tiled wall and base combined with a shower head and faucet. You also have the option to install a water heater to go along with your shower.
Read also: Design of Outdoor Showers You to love
Materials that are rust resistant like stainless steel are also popular choices because they do not change in appearance when exposed to salty water. It is advised that you buy a shower fixture that is made of durable materials, especially since it will be for outdoor installation. Doing so will ensure that the shower will be able to stand against harsh weather elements.
Utilizing Your Plumbing
Most situations will require the running of home plumbing to the outdoor shower area. Piping water from your home out of your outside shower room should be thought over very carefully. The benefit of this setup is that it is more permanent and professional looking. One other positive is that you'll be getting a regular water supply for your outside shower room. However, you have to consider that you will wind up doing more routine maintenance on your water system over time, particularly if you are living in a climate with tough winters or summers.

Before you do start building an outdoor showers enclosure, make sure that you have measured and marked the dimensions of the enclosure on a piece of paper. This will be very helpful when constructing the outdoor shower.