When it comes to good kitchen design, there are certain factors which are always present no matter what the use of space


Let's have a look at the idea minimum design factors must have so that it can be called a comfortable and will work perfectly in your home.
About Good Kitchen Design
"Proportions" is always used in the design field. Every interior space which is being used by humans must be proportionate. Proportions are extremely important in any design. The proportions play a major role in good kitchen design and furniture must also follow these rules. All these matters as function.
Natural light
There is the alternative for naturally lit spaces. Sun being the strongest source of light and also helps to keep the biological balance of the room, it is very much necessary in the interior spaces.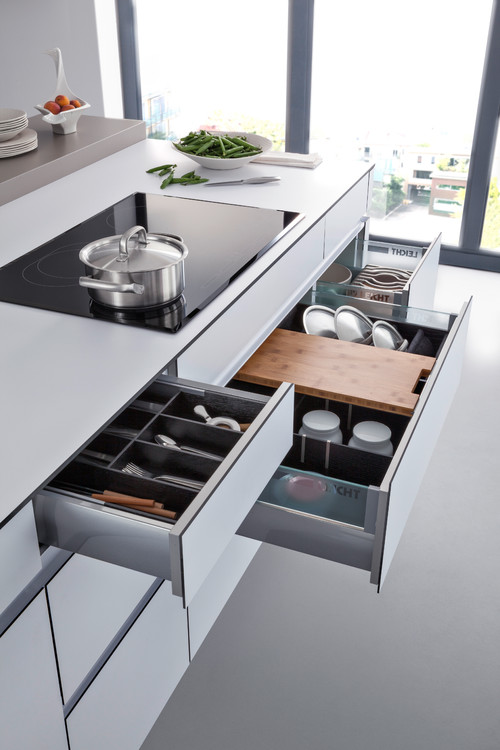 Ventilation
A free and unobstructed flow of air can be a great way to keep the atmosphere cool and clean in an interior space.
Movement Patterns
Every Kitchen room  has certain exit points attached to it. Such as
a) Walk to countertops
b) Walk with the use of kitchen accessories
c) Walk to the dining room
If we draw an imaginary line from the entry point to all these exit points, ideally the should not intersect. Since all other areas are already occupied with furniture, keeping the inside circulation space clear helps to your good kitchen room as comfortable.
Read also: Small Kitchen Remodeling: Flooring Tips That Make Your Space Seem Larger
Kitchen Colors
Color can influence the mood of a room.  A good combination of kitchen colors in the scheme of your decoration can make your kitchen look livelier and more appealing.  However, mismatched color schemes can ruin your decor.
Color can influence the mood of a room.  For example, studies have shown that red can quicken the pulse and breathing rate, as well as increase appetite.  Yellow, especially soft yellows can make people feel happier.   When used as an accent bright yellow can attract attention and brighten up a kitchen.  You can also use color to influence how large or small a kitchen can feel.
With kitchen color taking on more importance, many manufacturers of cabinets, appliances, flooring, and countertops are offering the consumer more choices in colors.  The best kitchen colors should include shades of brown, peach, yellow, pink or blue.
White as a kitchen color remains a popular choice because of it has a clean look. Also, design elements such as a light colored oak floor can make a kitchen seem warmer.   It is considered a good idea to select one color as the overall or base color and select one or two accent colors.
For use different kitchen color schemes, It is considered a good idea in using color in a room to have a 60-30-10 split between three colors, 60%, representing the main or dominant color, probably on the walls or cabinets.  30% of a secondary color used in the flooring or rugs, as well as window treatments.  10% for accents such as dishes, artwork, pillows and other soft items.
Read also: Kitchen Personality Add Splashes of Color
A good kitchen color decorating scheme is to emulate the color schemes found in nature, such as sky blue or the various shades of green or earth brown or light or pale yellow.  Light can also be an important element in emphasizing the colors and can bring about different shades and views of the color based on varying intensity.
However, it is important to note that these are not the only factors that need to be looked upon, but I'm sure these can help as was informative for your further creative thinking.