M ost of the work done in the kitchen involves the sink. Finding the right one out of the wide range of kitchen sink available when remodeling your kitchen is a step that should not be overlooked.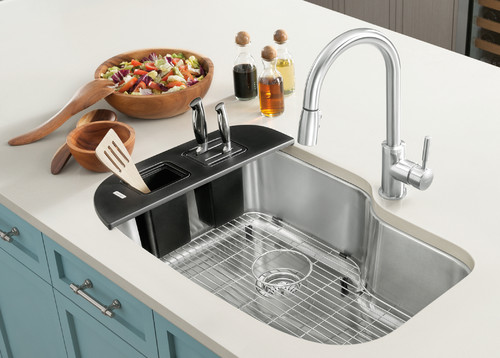 The kitchen sink is used a lot when preparing meals, cooking, and washing up.- is one of the most used areas of the kitchen. It's not uncommon today, to have a second sink, either on an island or in a food prep area to complement the main sink.
The need of every home is different. It's important to think about how you will actually use the kitchen sink, will be best to ensure that you choose a sink that will suit your needs and fit in with your new kitchen design.
What to consider when choosing your kitchen sink
Style : The style of the sink: Ensure that your new sink fits in with the style and decor of your kitchen,
Number of Bowl : how to select the right sink
single sink : A single, deep basin means you can easily soak or wash a big pan or prep large quantities of food.
Two basins : Two basins allow you to perform separate tasks, such as cleaning dishes and preparing food.
Three basins : You can use the garbage disposal independently of the sink. (two large ones and one small one with a garbage disposal).
"For people who like to keep the garbage disposal away from the food, this is a good option,"
Material : Do you like the look of a stainless steel kitchen sink, or do you prefer color and durability like.
Stainless steel: This is a durable, easy-to-clean material —  stainless steel is flexible
Porcelain : Traditional material that looks authentic in kitchens with a vintage style. For people who love the color, the choices are endless.
Granite composite : Made of granite particles and polymers, this material resists scratches and chips. It does not show water spots  — Lighter-colored granite composite sinks, special maintenance is required.
Natural stone : A natural stone sink — soapstone being the most common choice — The material is costly — special cleaning products may be required.
Size and Depth : Kitchen sink bowl depth is an important factor to consider. Deeper kitchen sinks provide more space in to wash dishes or large items like pots, pans, and cookie sheets, but you may consider a more shallow kitchen sink depth for ease of use,
Longevity : When selecting a sink you need to think about the durability of the material that you choose. For example, porcelain looks great but could be easily damaged whereas stainless steel is often quick and easy to look after
What kitchen sink should I choose?
What do you need? the selection of a sink is one of the most important kitchen choices you will make. The color, and style, of sinks, it is also important to think and even  on taps and accessories for your new sink, enabling you to get the perfect look.
If you are not quite sure what sort of kitchen sink is going to best suit your needs and your kitchen, speaking to a kitchen design expert in your area to tell you about which material to choose, the style of sink that will best suit your kitchen.